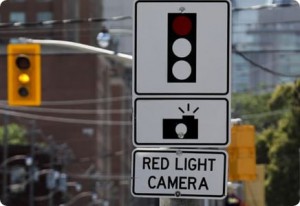 Red Light Camera Tickets: Everything You Need To Know
Court Services sends you a letter and when you open it, you see a red light camera offence notice!. To your surprise, on the offence notice is a picture of your vehicle running a red light. I guess you can say that you were "caught red-handed " on this one. The following information is everything you need to know, including how to pay red light camera tickets online or contest them.
What is a red light camera?
A Red Light Camera (RLC) is an automated camera system that detects and captures images of vehicles entering an intersection when the traffic signal indicated red.
The province of Ontario passed legislation in 2004 to allow for the use of red light cameras across the province. Not all municipalities use RLC technology. Signs will be posted at signalized intersections with an RLC system.
Red light cameras can be found in City of Toronto, Ottawa, Brampton, Mississauga, Newmarket, Hamilton, London and Kitchener. Toronto currently has the most red light cameras totalling 48.

How do red light traffic cameras work?
A red light camera takes two photographs of the vehicle. The first photo is the vehicle prior to entering the intersection (passing the painted stop bar) while the light is red and the second photo is the vehicle within the intersection. RLC system can also detect the speed and how long the light was red. This information is also found on your offence notice.
Photos of offences are reviewed by provincial offence officers who are expected to determine whether or not there is enough evidence for the red light camera charges to be issued. The officers look for things like making sure the licence plate is clearly visible, confirming the date/time on the image, ensuring the stop bar is visible and that the streets signs can be seen in the photo to verify the vehicle's location.
Once the Officer verifies the offence has taken place, a traffic ticket will then be mailed to the registered owner of the vehicle. If your vehicle enters the intersection when the light is yellow or if you were already in the intersection when the light turns red, they will not issue you a ticket.
What is the penalty for a red light camera ticket

A red light camera ticket is considered a fine, not a conviction to the drivers abstract. The fine in Ontario is $325 and is broken down and set by the Provincial Offences Act ($260), a victim fine surcharge ($60), and applicable court costs ($5). A red light camera fine is the same province wide. A red light ticket in Toronto will have the same fine as Hamilton, Mississauga, or any other city that uses RLC systems.
Does a Red light camera go on my driving record?
A red light camera ticket is an owner-liability charge, meaning that the plate holder receives the ticket and not the driver. Since a camera takes these types of offences, it's not possible to Identify who the driver of the vehicle is.
Does a red light camera have demerit points?

Red light camera tickets don't carry demerit points or go on your driving record. If a police officer stopped you and handed you a ticket, this traffic ticket would carry carry 3 demerit points.
Does a Redlight camera ticket effect CVOR?
Yes. Red light camera & speed camera tickets do inpact commercial vehicles that commit these infractions. You may want to consider fighting a red light or speed camera offence as it has more consequences than just a fine.
Will a red light camera ticket increase my insurance premium?

Red light camera tickets won't impact your insurance premium. The ticket won't show up on your driving record for your insurance company to see as its an owner-liability charge. If you receive a red light ticket directly from a police offer, this offence does carry 3 demerit points, which will show up on your driving record. This will likely lead to an increase in your premium.


How do I pay a red light camera ticket online?
Ticket Payments Can Be Made Online For red light camera Tickets Through Our User-Friendly Website In Seconds!. Our Service Provides The Public A Fast, Convenient And Secure Service To Pay Tickets. We Provide Access To Justice For You To Do Things Like; Pay Speeding Tickets Online, Red Light Camera Fines, Speed Camera Fines, Toronto Parking Tickets Including Other Parking Fines For Across Ontario.To Make Payment online, Visit Our Pay tickets page. Please Have Your Ticket & payment Information In Order To Search For Your Fine Online and submit your payment.
How do you check the status of a ticket online?
Checking the status of your ticket can be done online. To check the status of your ticket in Ontario please visit the Ontario.ca website. City of Toronto Tickets can also be viewed online.
Can you fight a red light camera ticket in Online?
Yes, in Ontario you have the right to fight a red light camera ticket. You can file your red light camera ticket through our website here for free. It is possible to get a reduced fine less than $325. You will be required to entry a plea of guilty with explanation to the Justice of the Peace.
You can ask the court to consider the circumstances and situation surrounding the violation or if you cannot afford to pay the ticket for financial reasons. If you have a strong argument, your fine could be reduced and an extension of time to pay your fine.
What If You Ignore A Red Light Camera Ticket?
If you ignore a red light camera ticket you could have several different issues including renewing your driver's license, renewing your permit, registering a vehicle, and renewing your current car registration.
CONTACT US