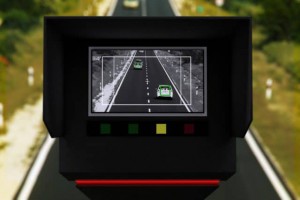 Toronto Speed Cameras | Locations | Fines | How To Pay
Toronto Speed Cameras
Toronto Speed cameras operate as Automated Speed Enforcement (ASE). ASE systems use Photo radar to capture the speed of passing vehicles with a built-in speed measurement device. ASE systems will issue tickets according to the information it collects.
When a speed camera detects a vehicle exceeding the posted speed limit, the ASE system records 4 important pieces of information:


The date and time

The speed of the vehicle

The vehicle's license plate

The location of the offence


City of Toronto ASE systems will document the information captured by the ASE camera. A provincial offences officer will review and certify the speeding offence took place in Toronto. An officer will determine whether the car was in excess of the posted speed limit. If the speed camera information is valid, the officer will issue a Toronto speeding ticket to the registered owner's address.
How Many Toronto Speed Camera Tickets Are Issued Per Year?
On July 6, 2020, the City of Toronto started using automated speed enforcement cameras across the city. 50 ASE systems generated 227,000+ Speed camera tickets in the first year in Toronto. The city of Toronto has been recently approved to install an additional 25 ASE cameras across the city totalling 75 speed cameras total in Toronto.
Toronto Speed Camera Locations
Toronto speed camera locations are spread out in various school zones & community safety zones across the city. Locations of Toronto Automated speed enforcement cameras can be relocated throughout the city. There are currently 50 ASE cameras doing Toronto radar. A live map of Toronto speed cameras can be found online.
Toronto Speed Camera Fines
The main consequence of a Toronto speeding ticket from photo radar is the fine. The speeding fine depends on how fast over the speed limit you were travelling. If a vehicle is caught speeding by the speed camera system, the driver will be required to pay a set fine under Schedule D of the Provincial Offences Act. A Victim Fine surcharge, in addition to court costs, will be added to the set fine for a total payable.
Toronto Speed Camera Fines (Set Fine Amount)
a) 1-19 km/h over the maximum speed limit is $5.00 per kilometre
b) 20-29 km/h over the maximum speed limit is $7.50 per kilometre
c) 30-49 km/h over the maximum speed limit is $12.00 per kilometre
d) 50 km/h or more over the maximum speed limit - No out of court settlement
Toronto speeding tickets from an ASE system are calculated using the exact speed recorded by the speed camera. For example, if the posted speed limit is 50 km/h, and a car was going 70 km/h, the set fine is $100.00. The set fine amount does not include the Victim Fine surcharge and court costs.
Pay Toronto Speed Camera Tickets Online
Toronto automated speed enforcement tickets can be paid online using our website. To pay your speeding ticket, search your Toronto speed camera ticket fine through our system. Once fine information is displayed, you can pay your Toronto speeding ticket online.
Speed Camera Tickets And Demerit Points
Toronto ASE tickets are issued to the registered plate holder and not the driver of the vehicle. ASE speeding tickets are owner liability charges and do not carry any demerit points for the driver or registered owner.
Will Speed Camera Tickets Affect Driver/Owner Records?
The answer is yes. If the registered vehicle & plate is a commercial vehicle, the CVOR can be affected. Speed camera offences are disclosed to the Ministry of Transportation.
No. If the vehicle is a non-commercial motor vehicle, ASE tickets won't go on the driver or owner's abstract.
Will A Speed Camera Ticket Affect My Insurance?
Yes. Commercial motor vehicles and CVOR records could potentially be impacted and affect your rating and insurance.
No. Speed camera tickets do not result in a conviction to your personal driving record for non-commercial motor vehicles.
Fighting A Speed Camera Ticket
A speed camera ticket can be disputed in court. If you believe you have a defence to the charge or if the fine is too substantial and you need time to pay, you can request a court date. It may not be worth the time or effort to dispute a speed camera ticket. Hiring legal representation to help dispute the ASE charge might outweigh the cost of your ticket.
Toronto Court Locations
Toronto has 3 Ontario Court of Justice locations that handle provincial offences act matters including automated speed enforcement tickets.
Toronto West Court
Icon code location: 4862
Court Address: 2700 Eglinton Ave W. Toronto, Ontario.
Toronto South Court
Icon Code Location: 4860
Court Address: 60 Queen Street W. Toronto, Ontario.
Toronto East Court
Icon Location Code: 4863
Court Address: 1530 Markham Road. Scarborough, Ontario.
CONTACT US