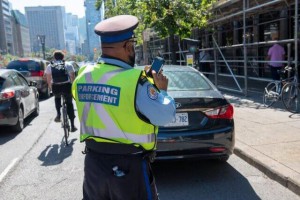 Toronto Parking Tickets | How To Pay Fines Online
---
Toronto Parking Tickets
Toronto by-laws for parking infractions around the city can often confuse visitors or even its residents. Many people living in the city receive a penalty notice ("parking ticket") every day. Some common offences include parking somewhere illegally (i.e., No parking zones) or remaining parked where the meter/ parking time allotment has expired.
When the city of Toronto parking tickets are issued, you have 15 days to pay your ticket or dispute the charge. You can request a review of your parking infraction with a screening officer or pay for your parking violation.
A notice of overdue parking penalty will be issued by mail if there isn't a request to dispute or pay your parking ticket. An additional fee of $12.75 will apply to a parking penalty as a ' registered owner search fee '.
The City of Toronto will add a ' late payment fee ' of $26.58 if you don't request a screening review or pay your ticket within 30 days. This fee also applies if payment is not made within 30 days of the final payment date after a screening or hearing review.
A ' plate denial fee ' of $26.58 will be applied if a penalty notice and fees are not paid within 60 calendar days after the penalty and fees become due. After the plate denial fee is issued, the fine can only be paid at Service Ontario. Toronto does not send reminders about your parking violation after plate denial.
---
Pay Parking Tickets Toronto
There are three ways to pay parking tickets in Toronto. You can do it online, by mail, or in person.
Pay online

Two reasons we recommend you pay Toronto parking ticket online.


Reason number one - paying tickets online has convenience - it's quick, easy, and convenient to get your fine paid online by using a credit card. You don't have to drive down to the Toronto court office or wait in long lines just to make ticket payments. Paying parking fines online means you save yourself time by not waiting in long lines.
Reason number two - say goodbye to additional fees! Paying your fines online through our user-friendly website can save you potential administrative penalties by not getting down to the court office in time to pay a fine.
In-person
Paying your parking fines in person can be a headache, especially in Toronto. The City of Toronto counter locations operate Monday to Friday from 8:30 am to 4:30 pm. Payment methods accepted are as follows;


· cash
· cheque
· money order
· debit cards
· credit cards (Visa, Mastercard, American Express)



Pay by mail
If you decide to pay by mail, do not send in cash, only a cheque will be accepted for Toronto parking tickets. Your cheque should be sent to the ' treasurer, city of Toronto ' with the violation number on the front of the cheque. Please ensure to send your cheque early so that it can be received on time or you'll be penalized with fees.
Parking tags operations
box 4282, postal station "a"
Toronto, on m5w 5w5
---
Disputing your parking violation notice
You can dispute your Toronto parking violation by requesting a screening review with a hearing officer within the first 15 days of receiving your parking ticket. You can also request an extension within 30 days.
If you fail to attend your screening, it will result in a substantial increase in penalty. The City of Toronto issues a ' fail to attend hearing ' fee of $53.15.
After you attend your screening review, the decision document will indicate the total payable along with the fine due date. If payment is not made by the due date, the City of Toronto will charge a late payment fee of $26.58. Additionally, a ' plate denial fee ' of $26.58 will be applied if the fine is not paid and is sent to service Ontario.
Conclusion
A parking ticket in Toronto that isn't contested or paid by the due date can easily double or triple the original amount. Paying your fines online through our user-friendly website can save you time & potential administrative penalty fees. So, don't wait in line, pay online!
CONTACT US